Knights tournaments
We offer the knights tournaments that we perform in the form of stories. They consist of a number of optional disciplines in which the horsemen show their riding and fighting skills. Whether it is slicing a flying apple with a sword from a galloping horse, spiking burning rings, an attack on an infantryman or a rescue of a comrade, always it is only a small fraction of the entire portfolio of disciplines that the knights can perform. There is always an evil knight who challenges others to fight to the death, to joust.This fearful discipline, in which the knights knock each other down from the horseback with lances, is the highlight of the whole tournament. Who will be the winner? Of course, the best knight will. The entire tournament is commented by a herald, who guides the spectators throughout the show.The atmosphere is supported by impressive music that is provided from our own sound equipment.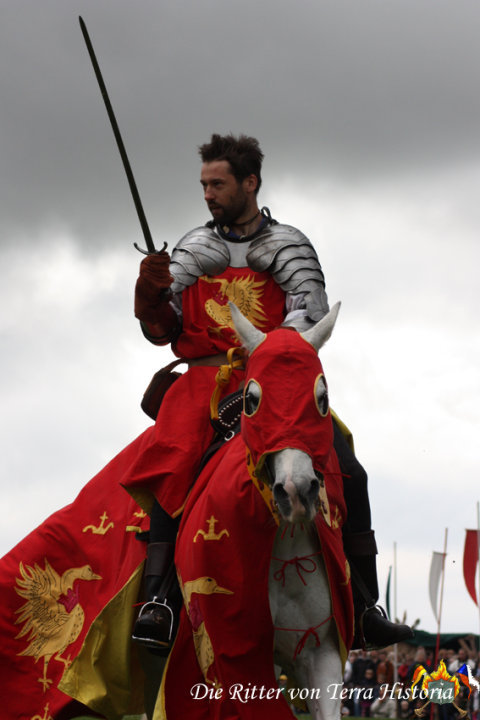 Small tournament:
Duration approximately 20 – 30 minutes
2 horses, 2 riders, 2 armigers – swordsmen, 3 esquires, 1 herald, 1 sound engineer
Mid-sized tournament:
Duration approximately 30 - 60 minutes.
4 horses, 4 riders, 4 armigers – swordsmen, 2 esquires, 1 herald, 1 sound engineer.
Large tournament:
Duration approximately 60 – 90 minutes.
6 horses, 6 riders, 6 armigers – swordsmen, 3 esquires, 1 herald, 1 sound engineer.
Tournament with more than 6 knights:
Of course, it's possible to organize a tournament with more riders.
The total price is calculated according to the demands on the specific event.
The procession (without a tournament):
Historical procession with knights riding on horses and wearing colorful costumes, armour and holding shields and banners.Our horses are accustomed to crowds, shooting from cannon, fencing, fire, road traffic etc.
The following conditions that must be fulfilled before the organization of a tournament:
Flat grassy, sandy or similar "soft" area with minimal dimensions of 40x20 meters in case of a small tournament, but preferably 60x30 meters.
Power supply to 220V within 50 meters from tiltyard.
Quieter place for horses and for preparation of props.
Access to drinking water
Free road access for vehicles directly to the tiltyard.
Knights tournaments in the gallery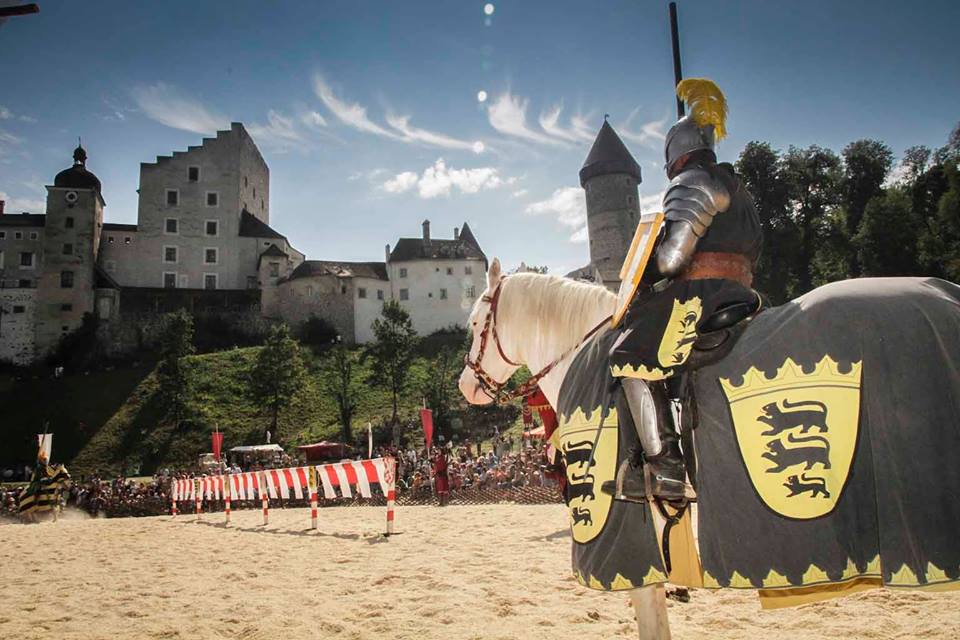 © 2021 Jana Jelenová Horse Stunt Team